게시글 보기
Review on PCHi 2017, Guangzou, China
Date : 2017-03-17
Name : BioSpectrum
Hits : 5226

BioSpectrum attended PCHi for 9 consecutive years, including this year.
BioSpectrum (CEO, Deok Hoon Park) attended PCHi (Personal Care and Homecare ingredients) held at Poly World Trade Center in Guangzhou, China from February 21st to 23rd, 2017. By participating in the exhibition, BioSpectrum introduced their main products to many customers in Asia and grasped the trends and current state of Chinese cosmetics market.
RedSnow®, made with Jeju-originated Camellia japonica flower petal extract, received huge attention from the customers for its anti-oxidant, anti-aging, and anti-pollution efficacy. Since customer's needs on the anti-pollution ingredient is getting increased, it is expected that the popularity of RedSnow® will continue for long time. Recently, RedSnow® was successfully applied to an eye cream from the famous brand in Korea, thus the Chinese customers showed high interests to RedSnow®.
Varrier™ is a natural UV protection ingredient and made with 4 berry extracts. It increases cell viability under UV radiation and recovers disrupted cell circadian rhythm. Varrier™ attracted many manufacturers and buyers who were interested in unique concepted ingredient with full substantiation.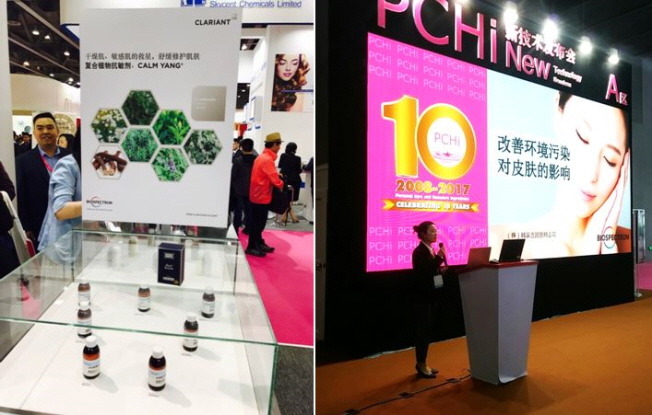 Chinese customers are highly interested in skin whitening. There is a growing tendency in Chinese cosmetics market to use natural whitening ingredient rather than chemical whitening ingredients which is caught up in safety controversy. WhiteTen™ SL is a natural whitening ingredient made with 10 raw materials with superior whitening efficacy. It received explosive attention from the manufacturers, formulation scientists, and marketers.
As always, CalmYang® (former name BSASM™), the bestseller of BioSpectrum still receive the highest attention from the buyers. The manufacturers and the customers of finished product are highly satisfied with CalmYang®, thus its sales growth has been steady.
In addition, BioSpectrum also promoted many other products, including, EMortal™ for anti-aging, Dongbaek Oil™ for skin soothing, BioDTox™ for skin detoxification, and Waterin™ for moisturization.
Clariant, the strategic partner of BioSpectrum, also attended the exhibition and promoted the main products of BioSpectrum. Moreover, Clariant invited Dr. Elle Lim from BioSpectrum to the technical seminar session, and she gave a presentation on the skin solution for anti-pollution and detoxification. BioSpectrum will continue the close collaboration with Clariant for implementing aggressive marketing.


BioSpectrum will participate in next year's PCHi, Shanghai, March.



게시글 목록

| Content | Name | Date | Hits |
| --- | --- | --- | --- |
| | BioSpectrum | 2017-03-17 | 5226 |